 Pelee Island COTTAGE RENTAL
A Step Away From the Rush of Everyday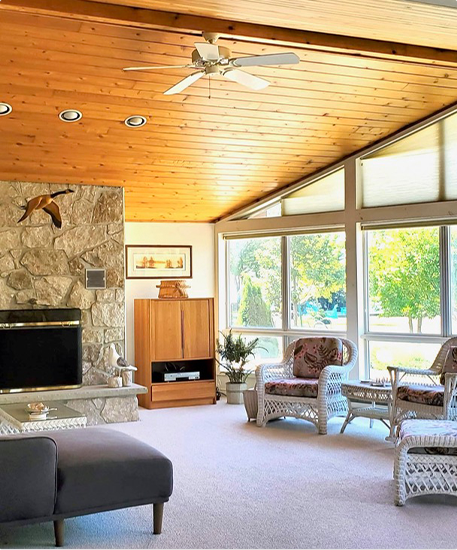 Escape the everyday by booking your stay at Once Upon An Island!
Located on the west side of Pelee Island with direct access to a sandy beach, and a view of Lake Erie sunsets, Once Upon An Island is a cottage rental ideal for enjoying nature with a quiet relaxing atmosphere. A single level home (two steps to enter) makes mobility around the property easy. The spacious and quaint 3 bedroom cottage sleeps up to 6 guests; two bedrooms with queen sized beds, and one with 2 twin beds.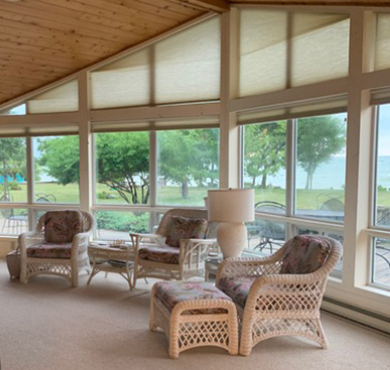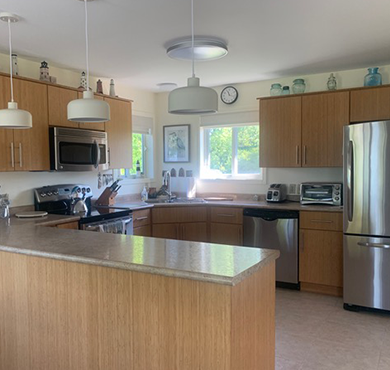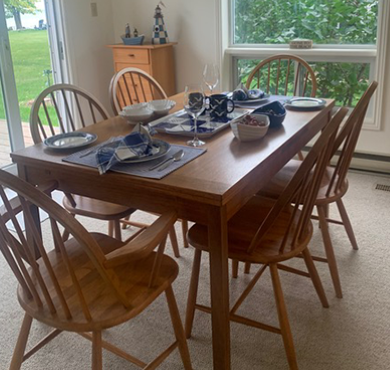 Enjoy your morning coffee on the expansive deck while watching nature go by. Retreat to the beachfront deck for happy hour as the sun sets. Take in the view from inside the great room while reading a book, watching TV (limited), movie, or playing a board game. All amenities are provided and comfortably furnished, including a well equipped kitchen ready to serve a multi course meal – perfect for the cooking and entertaining enthusiast.
The large deck overlooking the lake is ideal for outdoor dining and entertaining, watching the water, sunset, birds or sunbathing. Dry off after a swim on the beautiful beachfront deck with Adirondack chairs, or snuggle up by the bonfire and enjoy the crackle of wood and roast marshmallows.
Spend your day relaxing, attending a winery tour, biking, walking the nature trails, beach combing, fishing, birdwatching ….eagles, herons, pheasants, turkeys and pelicans…… yes pelicans! or water sports.
Host a yoga party, girls weekend or fishing trip; Once Upon An Island is the perfect recipe for a relaxing weekend away with your special someone or a group of friends.
Bicycles are available for touring the island. The cottage is located within walking distance (15 mins) to the Bakery or Dog & Goat Restaurant, or Scudder Marina  and Co-op (30 mins).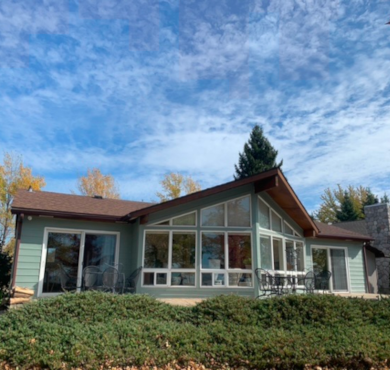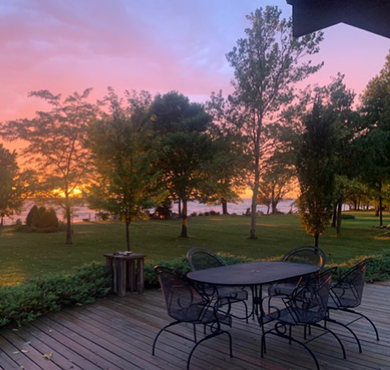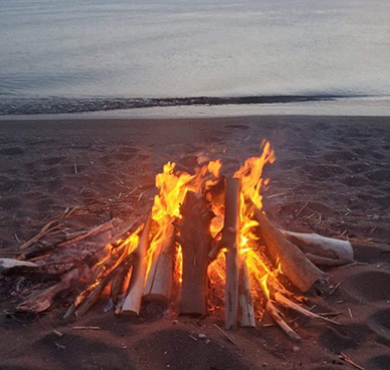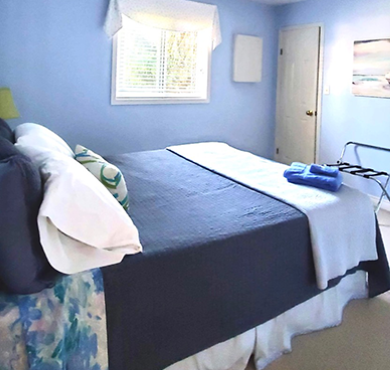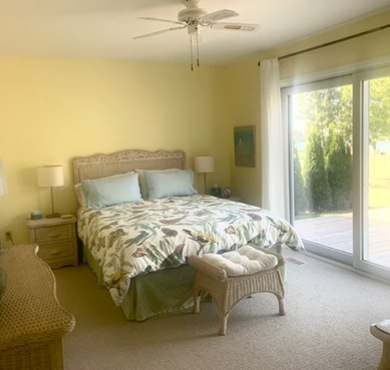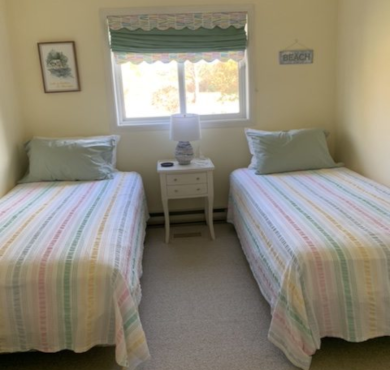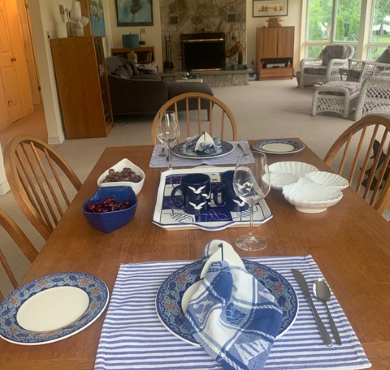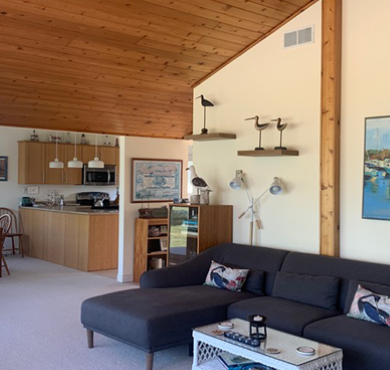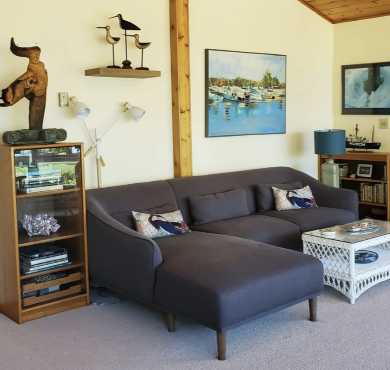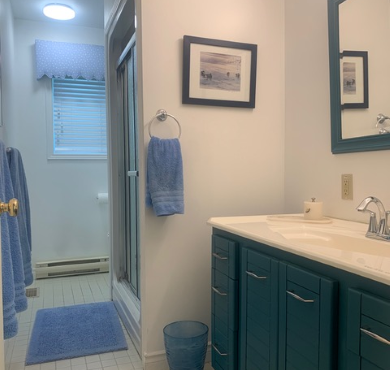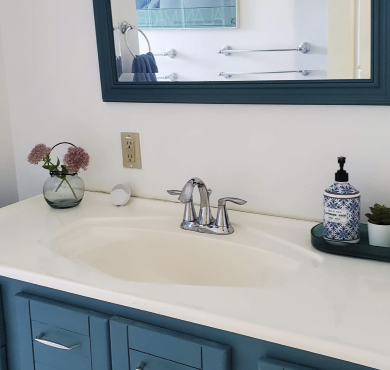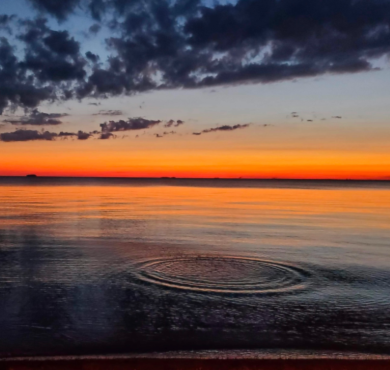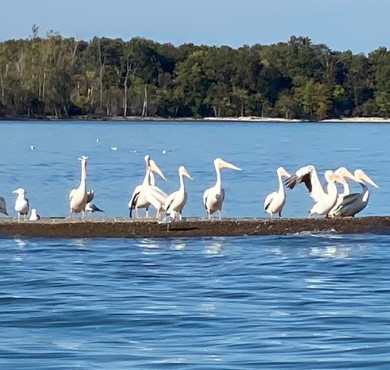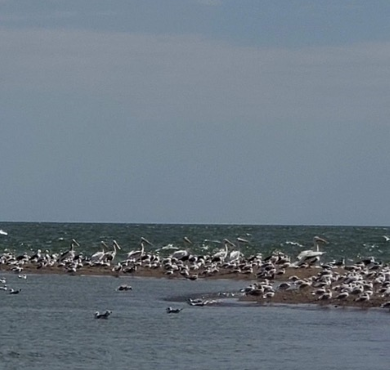 "Loved my 'girls weekend' stay and will be making it a regular go-to."
"Owners fantastic to deal with, provided all the essentials and more. Thanks for all the extras!!"
"Kitchen better equipped than home (and I'm a foodie)."
Linda L
"Spotlessly clean and fresh throughout, very comfortable seating inside for chillaxing and al fresco deck dining outside. Appreciated the one-floor layout including walkout deck to a large front lawn with more seating, cheerful Adirondak chairs and campfire pit just a couple safe steps to the sandy beach. Biggest decision was "which" nook to curl up in next!"
Lisa S
"Décor is so cool and tasteful… total island vibe from the nautical dishes to the artwork in every room - blown away by that; safe shower with seating, supportive mattress with soft sheets, awwww, falling asleep to the starry night skies and awaking to soft breezes and sunshine listening to the waves, yes!"
"Exceeded my expectations celebrating my 65th birthday at Once Upon an Island well-appointed cottage on idyllic Pelee Island with 'the girls'!! It's a gem on an oasis. The ferry over and back was so pleasant…just walked on with my carryon."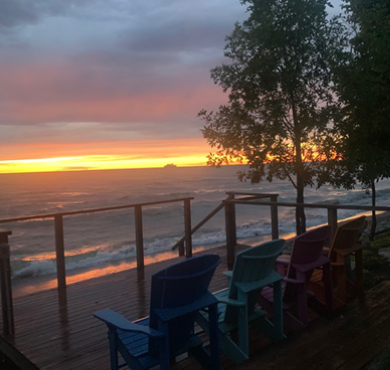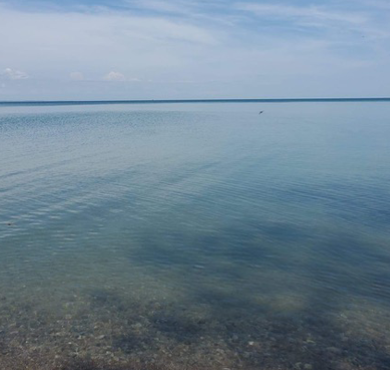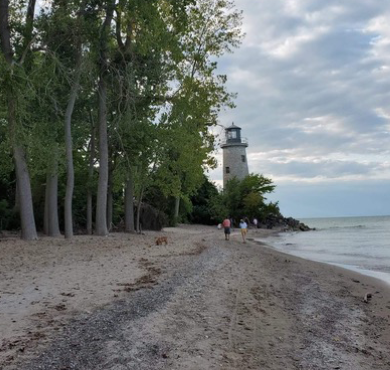 Fish Point Provincial Nature Reserve
Lighthouse Point Nature Reserve
Pelee Island Winery Pavilion
Pelee Heritage Centre
Pelee Art Works
Vin Villa
Butterfly Conservatory
Stone and Sky
Pelee Bike Rental
The Pelee Shop
Eat
The Dog and Goat Restaurant
The Stone House 1891
The Bakery
Westview Tavern
Taco Shack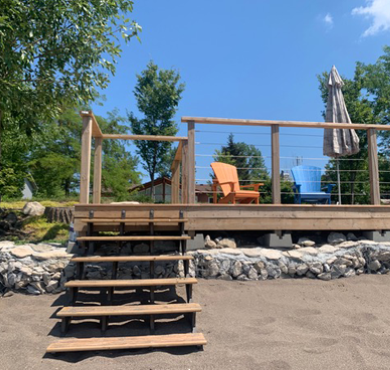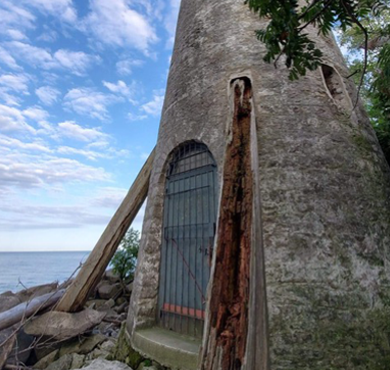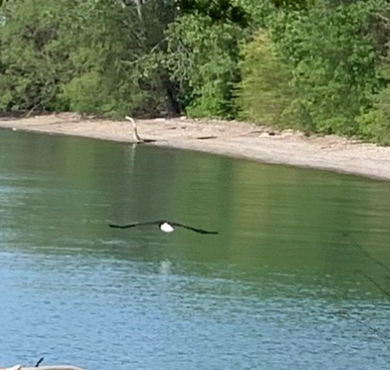 $415.00 + HST / Night
2 Night Minimum, 3 Night Minimum Long Weekend.
6 People Max.
No Pets
No Smoking